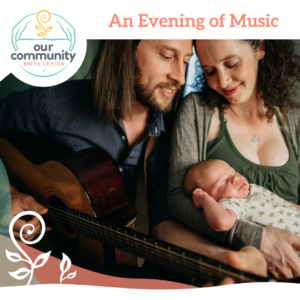 Watch and listen to the recording of our live music show by singer-songwriter and birth center dad, Shaun Daniel, on May 7, 2020 at the Common Bond Yoga Studio: YouTube Video of Our Evening of Music.
This event also included an Online Auction with great items and gift cards from local businesses and organizations. Thank you to everyone who donated to the auction and who participated in the auction.
Our Evening of Music and Online Auction together raised just over $6,000 to go toward starting a new birth center!
Thank you Common Bond Yoga for hosting our event. Thank you Lane County Friends of the Birth Center, Eugene Pediatrics Associates, and Summit Bank for sponsoring our event.
Find more music by Shaun Daniel at www.shaundaniel.com.